Phonexia Partner Program for Government Partners
This partnership program rewards partners in the government sector for selling and integrating the Phonexia's speech recognition and voice biometrics product portfolio.
Program Enrollment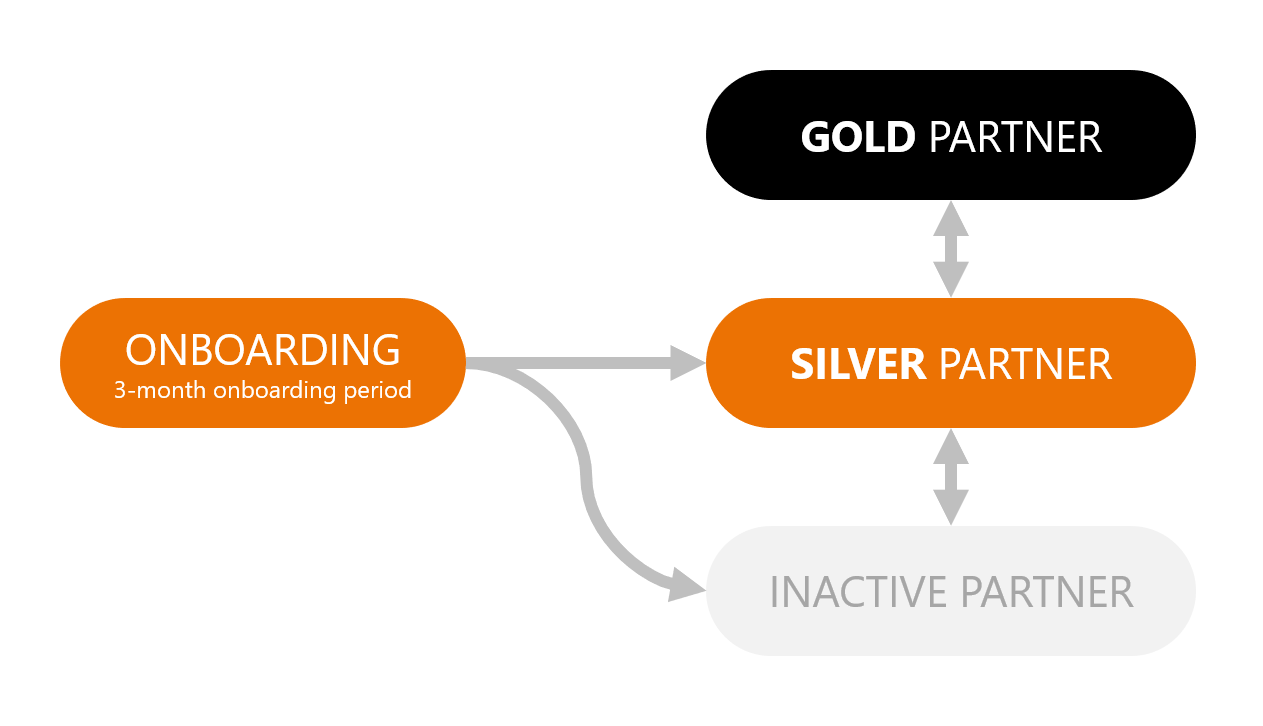 If you aspire to becoming a Phonexia partner, you can enroll into the Phonexia Partner Program and complete a three-month onboarding period. During this period, you will enjoy the same partnership benefits as our Silver partners.
Your assigned Phonexia Account Manager will take you through all necessary legal documents, highlight every business aspect of our cooperation, and organize two calls with a pre-sales person to ensure that you understand the technical details of the Phonexia portfolio.
Partnership Levels
After the three-month onboarding phase, Phonexia will evaluate the cooperation, and award you with a respective partnership level. The program offers these two partnership levels:
Silver partner—has access to pre-sales support, and the resources on Phonexia Partner Portal.
Gold partner—has access advanced access to Phonexia Partner Portal, receives priority support from Phonexia, and has a dedicated Phonexia technical consultant.
In addition to both partnership levels, you can always purchase a Starter Kit to receive additional support for your important PoCs and demanding projects.
Partnership Benefits
| | | | |
| --- | --- | --- | --- |
|   | Silver Partner | Gold Partner | Starter Kit |
| Dedicated Technical Consultant |   | X | Up to 20 hours of consultation |
| Basic Partner Portal Access | X | X | X |
| Advanced Partner Portal Access |   | X | X |
| NFR License |   | X | 3 months |
| NFR License Maintenance and Support |   | X | 3 months |
| 2-day Live Technical Training |   | X | X |
| 2-day Technical Response |   | X | X |
| Presentation Data |   | X | X |
| Phonexia News | X | X | X |
Starter Kit
Whether you are a new Silver partner looking for help with your first Phonexia project, or an experienced Gold partner that wants to ensure their top-class proof of concept will fulfill the customer's expectations, the Starter Kit is an excellent way to secure your project's success with project-specific support and guidance from Phonexia experts.
For a fee of 9,000 EUR, you can enjoy three months of:
An NFR license to access and test Phonexia technologies and solutions in real scenarios
Up to 20 hours of consultation with a project-allocated technical consultant
All the remaining benefits of the Gold partnership level
The combination of access to Phonexia Academy, state-of-the-art Phonexia technology, and an allocated senior consultant ensures that you can answer all your customer's technical and business questions.
Partner Level Prerequisites
| | | |
| --- | --- | --- |
|   | Silver Partner | Gold Partner |
| Basic Technical Knowledge | X | X |
| Advanced Technical Knowledge |   | X |
| Active Partner Portal Account | X | X |
| Quarterly Pipeline Updates |   | X |
Frequently Asked Questions
I am already a long-term Phonexia partner, do I need to go through the 3-month onboarding period?
Phonexia partners who enrolled before September 1, 2020 have already been assigned a partner status and do not need to go through the three-month onboarding phase. Your organization's contact person should have already received this information. If you are uncertain whether you have been assigned a partnership level or not, please contact your Phonexia representative.
I have an ongoing project. Will the new partnership program affect this?
For all such partners with a registered opportunity at Phonexia, Phonexia will provide a license valid until December 31, 2020 without any additional charge.
If I will be integrating Phonexia into my own solution, does the Phonexia Partner Program apply to me?
Yes, as an OEM partner, you can participate in the Phonexia Partner Program and enjoy the same benefits.
I am an end customer. Do I qualify as a partner?
Phonexia loves to treat end customers individually, therefore, they do not qualify for this partnership program.
I am a Silver partner and have a seriously interested customer. What are the next steps?
Try to narrow the scope of the customer's requirements. When you have lined up the customer's needs with the respective Phonexia use case(s), contact your Phonexia representative to arrange buying the Phonexia Starter Kit and kicking off the project.
How can I become a Gold partner?
Gold membership is by invitation. Phonexia uses various measurements such as revenue, pipeline, skillset, and cooperation history as part of the decision to grant/extend Gold partnership. Contact your Phonexia representative for more details.
How long do I keep my Gold partner status?
Phonexia understands that the sales cycle in the government segment can be long, therefore, your partner status is reviewed once a year in July.
How can I test the Phonexia Speech Engine (REST API) for myself?
Unless you are a Gold partner, our NFR licenses are provided in the Starter Kit. The kit also includes the services of our consultants to ensure you can fully understand the Phonexia portfolio and all related technical details necessary for the installation, usage, and tuning of Phonexia systems.
Do I really need to buy the Starter Kit?
We strongly recommend investing in the Phonexia Starter Kit for your first project. It is your insurance that you will have Phonexia resources available to make the project a success. Or perhaps, you won't be doing repetitive business with Phonexia. In this case, the Starter Kit saves you from having to invest in training, headcount, etc.
Can I purchase the Starter Kit during the onboarding period?
Yes, the Starter Kit can be purchased anytime during our cooperation.
Can I purchase the Starter Kit multiple times?
Yes, for each project, proof of concept, and product line, you can purchase a Starter Kit again. Phonexia consultants can't wait to support your business.
How do you deliver technical training?
Phonexia technical training is delivered over two days at Phonexia headquarters in Brno, Czech Republic. If this isn't feasible for you, we can deliver it online or at your premises.
I am currently an inactive partner. How do I re-engage with Phonexia?
Reach out to your Phonexia sales representative, or contact us at [email protected]. We will be happy to restart our cooperation.
If you haven't found an answer to your questions above, please contact your Phonexia representative to obtain additional clarification about the Phonexia Partner Program.